Key milestones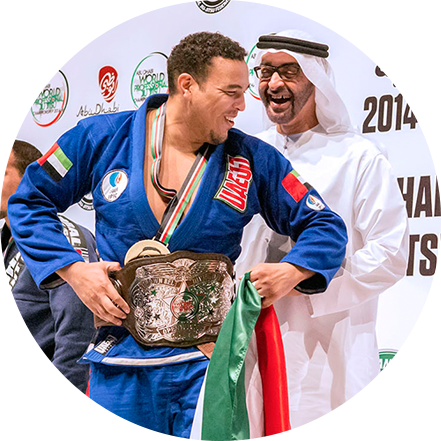 KEY MILESTONES IN THE UAE JIU-JITSU FEDERATION'S JOURNEY
The UAE Jiu-Jitsu Federation (UAEJJF) was established in 2012 under the direction of His Highness Sheikh Mohamed Bin Zayed Al Nahyan, President of the UAE. The UAEJJF's first board of directors was led by His Excellency Abdul Munam Al Hashemi who was also elected president of the Asian Ju-Jitsu Union in 2013. The UAEJJF has played an important role in consolidating the foundations of the sport of jiu-jitsu and fostering a vibrant and knowledgeable sporting community.
Since its inception, the UAEJJF has played a pivotal role in promoting, popularising, and strengthening the presence of jiu-jitsu domestically, regionally, and globally. To further the spread of the sport, the UAEJJF has entered into pioneering partnerships with several important public and private sector institutions and with numerous other jiu-jitsu federations from across the globe. A key achievement of the UAEJJF has been to supervise and grow the school jiu-jitsu programme, helping raise the UAE's stature in sport through a variety of initiatives at the grassroots, ensuring a steady stream of talent that has made the UAE proud on the international stage.
Under the guidance of the UAE's wise leadership, the efforts of the UAEJJF and JJAU led to the inclusion of jiu-jitsu at the 2014 Asian Beach Games held at Phuket, Thailand.
In 2015, the UAEJJF launched the Abu Dhabi Grand Slam Championship with the first edition being held in Tokyo, Los Angeles, Rio de Janeiro, and London. Abu Dhabi and Moscow were subsequently added to the calendar. The UAEJJF charted history, entering the Guinness Book of World Records by hosting the largest jiu-jitsu training session in the world with 2,441 fighters. 2016 witnessed the relocation of the JJIF's headquarters to Abu Dhabi through a unanimous decision of the JJIF's board of directors. The occasion also marked the election of His Excellency Abdul Munam Al Hashemi to the office of Senior Vice President of the JJIF.
The UAEJJF concluded 2017 in the best possible manner with its administrative prowess coming in for appreciation by way of winning the Sheikh Mohammed Bin Rashid Al Maktoum Sports Innovation Award in the category of the Best Local Sports Institution with its many athletic and organisational achievements coming in for special mention along with its noble commitment to promoting the participation of women in sporting forums.
In 2018, the UAEJJF and the Asian Ju-Jitsu Union successfully ensured the inclusion of jiu-jitsu in the 2018 Asian Games held in Indonesia. The UAE won nine medals in its inaugural Asiad appearance.
More than a decade after the launch of the showpiece Abu Dhabi World Professional Jiu-Jitsu Championship, the UAEJJF is proud to support more than 35,000 fighters spread across belts including 11,000 fighters across age groups in the UAE who participate in various domestic, regional, and international competitions and strive to bring glory to the UAE at these various sporting platforms.