13TH ADWPJJC: BLACK BELT FINALS SET AS MAIN BRACKETS DELIVER HIGH LEVEL JIU JITSU ON DAY 5; BROWN BELT CHAMPIONS CROWNED
Day 5 of the 13th ADWPJJC, this Thursday, November 18, was the stage for the absolute elite of Jiu Jitsu competitors. The adult male black belt division and the adult female brown/black division delivered thrills for the crowd both on the stands and watching at home on TV and online.
Thursday also featured the upcoming talents of the adult male brown belt division. Lots of action-packed matches throughout the day on the 9 mats set up in the Jiu Jitsu Arena.

Here's how each division played out until the definition of the gold medal matches for the adult male black belt division and the adult female brown/black belt division.
Adult Male Black Belt
56kg – Each finalist fought three matches on their way to the final, including one match against each other. Francisco Jonas Andrade debuted with an armbar finish on Samat Aitpanbet. Nathanael Fernandes also beat Samat, but with a 2-0 lead. They met up in the group stage, with Jonas winning via submission. In the semifinals, Jonas finished Finland's Marko Oikarainen while Nathan beat Hakuto Yamamoto 1-0.
FINAL – Francisco Jonas Andrade vs. Nathanael Fernandes
62kg – Diogo Reis fought three times to reach the final. He beat Hyeonwoo Han 2-0, Mani Tavanei 7-2 and Hiago George 1-0 in the semifinal. Georgia's Giorgi Razmadze had one match less than Diogo. He finished Italy's Carmelo Guglielmino and then finished Angola's Virgilio Carvalho.
FINAL – Diogo Reis vs. Giorgi Razmadze
69kg – In a crowded bracket, each finalist had three matches. Defending champion Israel Almeida debuted with a finish on Spain's Alejandro Carreras. Then, he finished Russia's Isa Karasanov to meet Fabricio Junior in the semifinal. A 2-0 lead was enough for the spot in the final. On the other side of the bracket, Argentina's Pablo Lavaselli debuted with a 3-0 win over Colombia's Mauricio Ospina, then beat France's Bilal Benmahammed 2-0. The semifinal was against Youngseung Cho and a 4-1 lead was enough for Pablo.
FINAL – Israel Almeida vs. Pablo Lavaselli
77kg – All the way from the Brazil Qualifiers, Micael Galvão fought three times in the main bracket to reach the final. He finished Panama's David Beluche, repeated the outcome with a finish on Australia's Levi Jones-Leary. In the semifinal, another finish, this time against Luiz Paulo Medeiros. On the other side, Norway's Espen Mathiesen finished Turkey's Hassen Moussa, beat France's Lorman Leon 5-4 and finally finished Barhain's Ali Monfaradi in the semifinal.
FINAL – Micael Galvão vs. Espen Mathiesen
85kg – In a bracket filled with big names, Isaque Braz fought three times on his way to the final. He beat Kazakhstan's Ruslan Israilov 9-3, finished Uruguay's Fausto Godoy and then in the semifinal finished Lucas Nascimento with a foot lock. On the other side, Australia's William Dias debuted with a 10-2 lead on Sweden's Fredrik Widgren, then finished Wonhee Jo and outscored Norway's Felipe Dias 2-0. The semifinal was against Norway's Tommy Langaker, when a 3-2 lead took William to the final.
FINAL –Isaque Braz vs. William Dias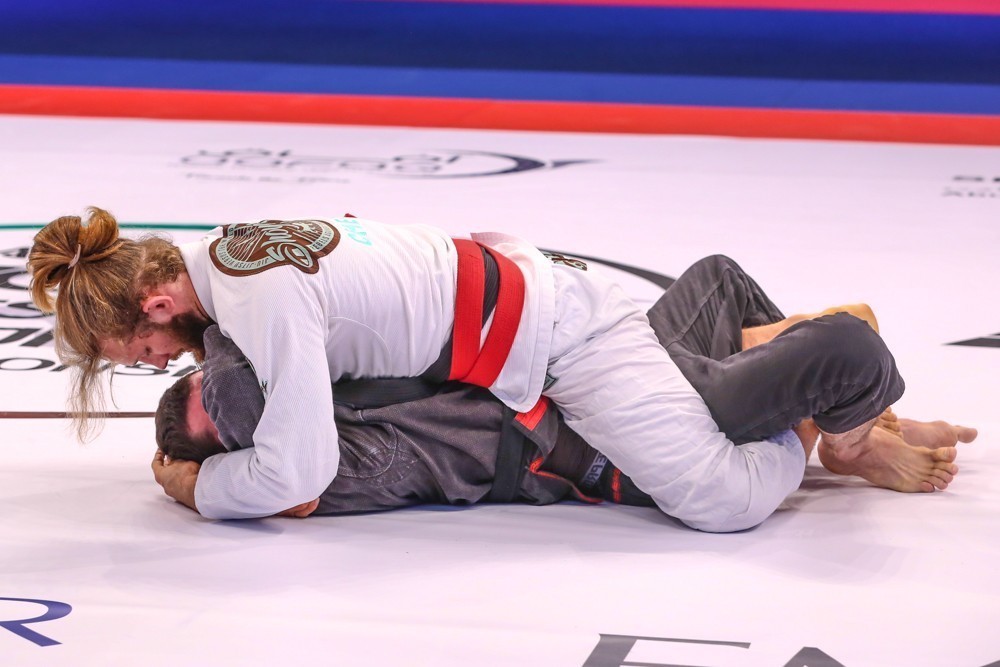 94kg – Poland's Adam Wardzinski will have the chance to defend his title. He beat Colombia's Junior Cabezas by WO, finished Russia's Artem Ushakov with an armbar and then outscored Russia's Arsen Shapiev 9-1. On the other side, Erich Munis beat Germany's Eric Bergman 3-0 and Brazil's Matheus Xavier 2-1.
FINAL – Adam Wardzinski vs. Erich Munis
120kg – Gutemberg Pereira is another reigning champion who will defend his title. He made it to the final with a WO win over Russia's Khasan Varando and beat Brazil's Roosevelt Sousa 2-1 in the semifinal. On the other side, Walter dos Santos took Angola to the gold medal match. He finished Bosnia's Almir Kapic and outscored Kazakhstan's Mansur Makhmakhanov 3-1.
FINAL – Gutemberg Pereira vs. Walter dos Santos
Adult Female Brown/Black Belt
49kg – Brenda Larissa will defend her title. In one match, she made it to the final with a 2-0 lead over Italy's Serena Gabrielli. On the other side, Argentina's Eliana Carauni finished France's Emilie Neto and beat Spain's Naiomi Matthews 1-0.
FINAL – Brenda Larissa vs. Eliana Carauni
55kg – Ana Rodrigues made it to the final in two matches. She beat Portugal's Rafaela Rosa 6-0 to meet tough rival Bianca Basilio in the semifinal. A 4-3 lead in a very strategic match took Ana to the gold medal match. On the other side, The Netherlands' Rose El Sharouni also fought twice to reach the final. She beat Canada's Rebecca Hughes 2-0 and then outscored Estonia's Liisi Vaht 4-0.
FINAL – Ana Rodrigues vs. Rose El Sharouni
62kg – Brazil's Beatriz Mesquita fought three times to keep her dream of the seventh gold medal alive. She finished Russia's Olga Vladimirova with an armbar, finished Colombia's Madeline Choconta and choked Brazil's Julia Alves. Bia's opponent in the final will be Italy's Margot Ciccareli who beat Jordan's Yara Kakish by referees decision and Norway's Julia Maele 3-2.
FINAL – Beatriz Mesquita vs. Margot Ciccarelli
70kg – In one match, Ingridd Sousa made it to the final by beating Brazil's Larissa Dias 1-0. On the other side, Poland's Magdalena Loska beat Australia's Miranda Okazima 5-1 and Jordan's Rana Qubbaj 3-0.
FINAL – Ingirdd Sousa vs. Magdalena Loska
95kg – Each finalist fought three times. Yara Nascimento France's Claire-France Thevenon, beat Guinea-Bissau's Katiuscia Dias 1-0 and finally finished Jordan's Lama Qubbaj. On the other side, Gabrieli Pessanha finished Lama Qubbaj, finished Claire-France with a triangle and beat Katiuscia 4-1.
FINAL – Gabrieli Pessanha vs. Yara Nascimento
Adult Male Brown Belt
Day 5 concluded with the finals in the adult male brown belt division. The upcoming talents gave their all on the mats in search of the title. Here are the gold medalists. Special mention to the UAE's Omar Al Fadhli, who received his black belt on the podium after winning the 62kg division. 
56kg – Bruno Borges (Brazil)
62kg – Omar Al Fadhli (UAE)
69kg – Ademir Araujo (Brazil)
77kg – Jonatham Silva (Brazil)
85kg – Uanderson Ferreira (Brazil)
94kg – Vinicius Paula (Brazil)
120kg – Vinicius Liberati (Brazil)
The 13th ADWPJJC returns this Friday, November 19, for the final day with the black belt finals starting at 1:00PM (Abu Dhabi Time).