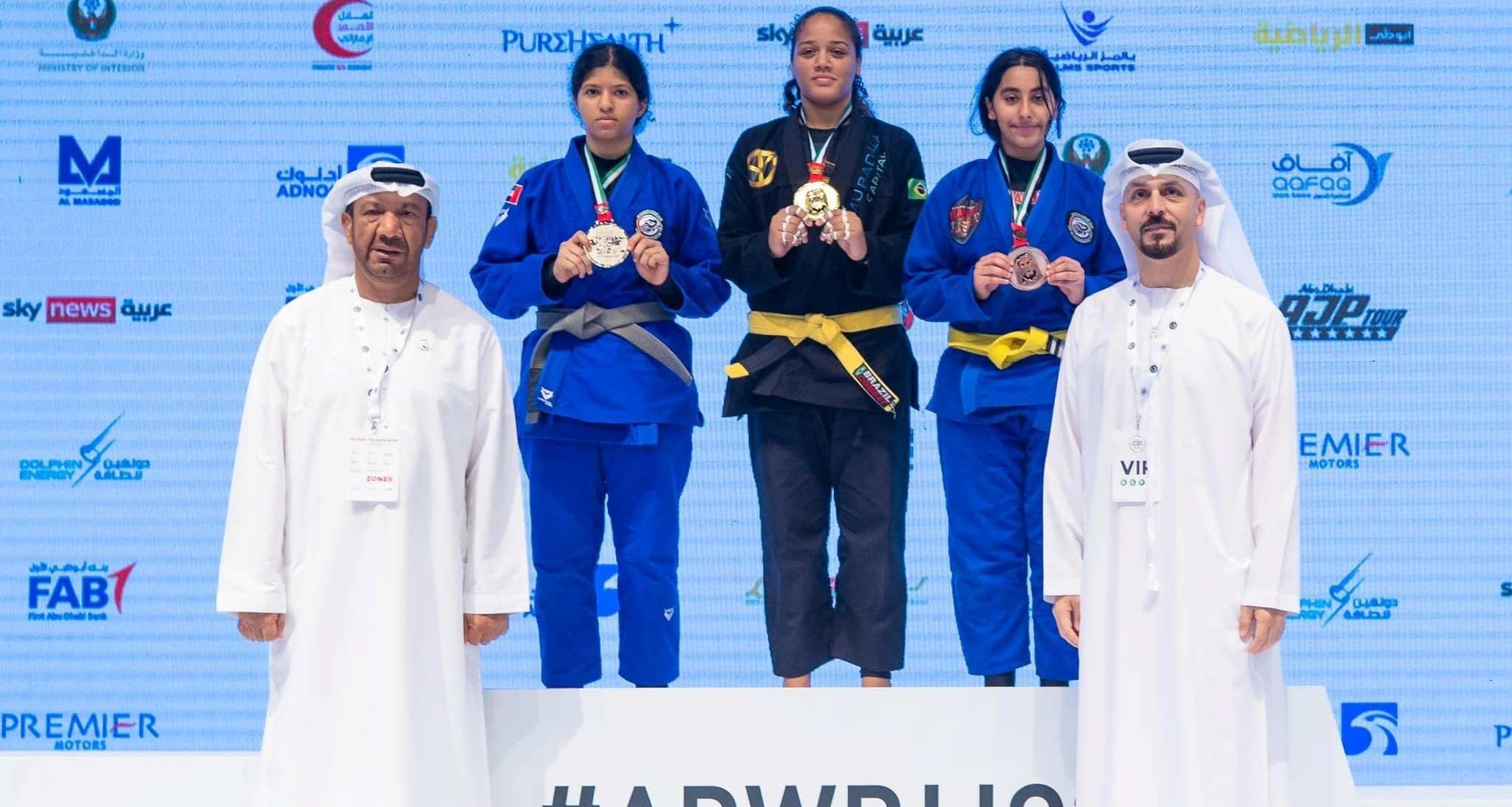 FEMALE ATHLETES TAKE OVER AT THE AJP ABU DHABI WORLD YOUTH JIU-JITSU CHAMPIONSHIP 2022
Cultural displays, hard-fought battles, and inspiring stories opens the tournament
November 13, 2022
With the presence of H.H. Sheikh Khaled bin Mohamed bin Zayed Al Nahyan, Chairman of the Abu Dhabi Executive Office and member of the Abu Dhabi Executive Council, the AJP Abu Dhabi World Youth Jiu-Jitsu Championship 2022 started with its opening ceremony, a spectacle that highlights the cultural richness of United Arab Emirates. After the display, which took place this Sunday, November 13th, the competition kicked off the all-female finals of the Infant, Junior, Teen, and Youth categories, from the grey to the purple belt.
Among the highlights of today's event, the blue belt Sarah Galvão, daughter of the three-time Abu Dhabi World Pro champion Andre Galvão, snatched the gold after three fights in the Youth 63kg division. After a choke from the side control and a victory by 3-0 in the semifinal, Sarah faced Ana Clara Arouca in the title match, which ended in her favor after she passed the guard and landed an armlock at the very last second of the fight.
"I knew I would fight some tough girls here, but I felt really confident with my Jiu-Jitsu today", says Sarah. "Being Galvão's daughter puts no pressure on me, it's a privilege. He's my professor, but I only see him as my dad and his words of encouragement mean even more to me. The Jiu-Jitsu Arena is beautiful, the lights, the crowd, and everyone is so nice. I really loved it and hope to come back."
Earlier, the yellow belt Yasmin Andrade managed to stand out after defeating all her opponents and taking the gold medal in the Junior 75Kg division. At 13 years old, the competitor stands at 1,70m and was able to reach the Abu Dhabi mats through a Mubadala sponsorship that fully funded her trip, alongside another 37 young practitioners from a social project, to participate in the event. Now with the gold medal around her neck, Yasmin looks back on the beginning of the journey that led her across the world to earn the title of champion. 
"I come from Maré, a Brazilian slum located in Rio de Janeiro. I didn't think I would be able to come to Abu Dhabi to fight. I cried a lot when I heard about the opportunity that I was being given. My mother hugged me a lot, which made me cry even more because my goal in life is to make her proud."
Click here to check the full results of today matches.